I was tagged for this award by the lovely Jess @ BeacoupBooks – Thank you!
The Rules:
1. Answer the 11 questions from the nominator.
2. Nominate 11 blogs.
3. Ask them 11 questions
Jess' Questions:
1. Which book are you currently reading?
Right now I'm reading Archangel's Heart by Nalini Singh.
2. Favourite book cover?
Oh gosh. There are so many, how do I choose?!
3. What was the happiest moment of your life?
I can't answer this without looking like a complete melt. Plus there are so many, I wouldn't say there's one single happiest moment.
4. What's the last movie you watched? Did you like it?
I watched The Rocky Horror Picture Show: Lets Do The Time Warp Again (the 2016 remake) – I thought it was really good, but you can't beat the original!
5. Who's your OTP? (if you have one)
Probably Jean-Luc and Vic from London Belongs to Us. They're actually cousins but they come as a pair so I think it still counts as an OTP.
6. Favourite fictional villain?
Hades in Disney's Hercules. He's so sassy I LOVE him.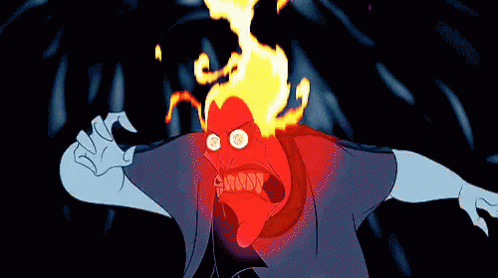 7. What's the longest book you've ever read?
Probably got to be one of the later Eragon books, by Christopher Paloini.
8. Something you hate that everyone else seems to love?
So so so many things. Bookwise, John Green. His books are just not for me.
9. What's the last novel you gave your highest rating to?
London Belongs to Us by Sarra Manning. It was a fun, eventful story with fabulous characters and settings.
10. Which fictional character do you relate to the most?
I don't even know. It would have to be a side-character since I'm not really one for spontaneous adventures.
11. What's a book you think everyone should read?
Good Omens by Neil Gaiman and Terry Pratchett. Its my all time favourite book and I don't see how anyone could possibly not love it.
I tag:
Danielle @Books, Vertigo and Tea
Jasmine @How Useful It Is
Kee @Kee The Reader
E.C @YA Book Blog
Emma @What Emma's Reading
Danielle @Books, Vertigo and Tea
Sue & Imogen @Doddy About Books
My questions are:
Who is your all-time favourite author?
Vampires or werewolves?
What's your favourite TV show right now?
Where would your ultimate holiday be?
How do you spend your time (when not reading or blogging, obviously)?
What was/is your best subject at school?
Would you rather live without books or without clothes?
Favourite band or musician?
What job would you really like to have?
Who is the last person you spoke to on the phone?
If you could be any animal, what would it be and why?